Professional Home Inspections in the Cedar Valley and Northeast Iowa
by a trusted name in the building industry.
WELCOME
Raising Home Inspections To a Whole New Level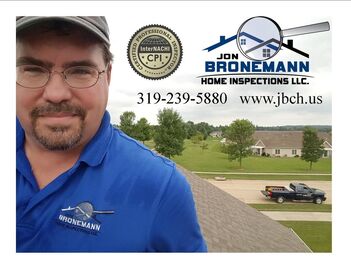 I have you covered with over 25 years of construction experience from a trusted name in the area. I put that experience to you work for you in providing a professional home and commercial property inspections backed by one of the most complete reports in the industry. You are the one I represent. I do not represent the seller or the agent. I have your interests at heart during the inspection.

"Every home has a story - what's right, what's wrong, what needs to be repaired. My inspection report will tell the story of your home with pictures and video in an easy to read and understand format. Let me tell your home's story." -- Jon Bronemann, Certified Professional Inspector
---
Pricing:
​Every home is different. Size, foundation type, age, and services requested all determine the contract price.
​Please call 319-239-5880 for more information.
Ask about how Thermal Imaging can enhance your inspection experience.


Types of Inspection Services:
Click on the service for more information.
Other Services Available:
Radon testing, Wood Destroying Insects inspection, and other services can be arranged at the same time as your inspection for an additional charge.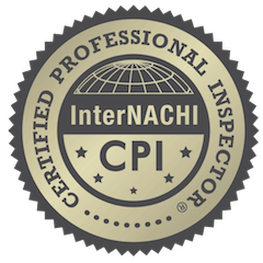 Each property is different and so is each inspector and inspection company
Simply put, PRICE should never be the lead factor in a decision in selecting an inspector. You are making a huge decision. This decision could impact your financial position for the next 30 years. Would you really pass up a professional with
knowledge and experience
(click the link) for a price difference of ONE dinner out?
I am not a franchise. I don't do multiple inspections a day nor try to meet a corporate driven sales quota. It is my own name on the business. I take the time necessary to do a thorough inspection of the home and write a quality report. I tell you "WHY" when most inspectors just list an item and leave you guessing "WHAT" it means. I have built my reputation as a professional home inspector one satisfied customer after the other. See my reviews for yourself.
Jon Bronemann Home Inspections, LLC is fully insured for your protection. General Liability Insurance is required by the state, but here I take it a step further. Professional Errors and Omissions Insurance is also carried. Ask any other inspection company you may be talking to if they are covered with BOTH of these. Sadly, some don't carry both. Some are not insured at all.
I am also a Certified Professional Inspector by InterNACHI (International Association of Certified Home Inspectors). This is the largest organization of inspectors in the country. Membership requires not only passing their classwork and a final exam in all areas of inspection but also continual annual education credits. The State of Iowa is one the states in the country that does not require inspectors to be licensed like a plumber or electrician or even pass an exam like a lawyer or a doctor. Taking tests and holding licenses is nothing new to me. I have a degree in Construction Management from the University of Northern Iowa and was also a licensed general contractor.
Sadly, there are too many businesses out there that don't have the background or the training to do inspections and there is nothing that the State can do because this industry is not regulated in Iowa. Rest assured, that the training by InterNACHI is thorough and they do review that the annual education requirements of the members are updated.
Please learn more about what I can offer by visiting the links above.
Call me at 319-239-5880
Email:
bronemann@cfu.net
Actual Home Inspection Customer Video Reviews:

Leave a Customer Review​
---
---
​
Reviews Reposted From Facebook and Google Plus Business Page:
​Nick A. in Oelwein, Iowa --
I will be recommending Jon to anyone looking to buy a home. Jon went above and beyond expectations. Even my realtor was impressed with how thorough he was. Jon brings years of experience to the plate and it shows in how he does his job. He knew exactly what to look for and found things that most wouldn't even think about. Jon spent four hours with me and it felt like five minutes. Jon took the time to show me exactly what I should be looking and listening for when my furnace is properly working along with my water heater. Being a first time home buyer and nervous about the whole process Jon made me feel a little more confident that my wife and I were making the right decision. Once all the fun is done at the house Jon completes a very detailed and thorough report with pictures and descriptions. Jon also provides a life expectancy chart for everything from pipes to gutters. JON IS WORTH EVERY RED CENT! Thanks again JON!!
Martin Hansen
Local Guide

 · 1 review
Choosing a home inspector is a critical part of the home-buying process. And much like selecting a home, one should invest some time and effort in selecting a home inspector. My process was to speak to three home inspectors and after a 30-minute discussion with Jon Bronemann, I was comfortable that he was the right choice for me. The home I purchased has over 4000 square feet (when you add in the garage) and included a complex HVAC system (2 central air conditioners, an electric forced hot air furnace, 2 water heaters, one boiler and a 5-zone radiant in-floor heating set-up.) What's more, the house is close to 10 years old and I was really worried about all the things I missed when I visited during open houses and tours with my Realtor. I had read all of the other reviews about Jon and I can tell you with great assurance that they are incredibly accurate as to his process, his personalized service and his value as a home inspector. His price was fair and competitive with others but I believe I got so much more from him. His report is fantastic and I learned so much from him during his four hour inspection of my property. This is the sixth house I've purchased in my lifetime, I'm 55 years old and Jon really knew how to educate me without making me feel like a "clueless wonder." Do yourself a favor and hire this guy for your home inspection.
Ivan V. Waterloo, Iowa -- Jon is very detail oriented. He takes his time and makes sure he has left no stone unturned. That's precisely what you want in a home inspector. I would recommend him 100%.
Cole K., Cedar Falls, Iowa -- Jon Bronemann did a great job inspecting my house. He was very thorough and knowledgeable about construction and what he does.
Matt B. - Cedar Falls, Iowa -- Jon did a very good job with our home inspection. As a first time home buyer, Jon did a great job educating me during the inspection, and his inspection report contains a lot of very useful information (both about our house and home ownership in general). Jon is thorough, and checks every area of the house that he can which I appreciated. I would highly recommend Jon to anyone purchasing a home, and am happy I was able to work with him.
Rose and Jesus Z., Waverly, Iowa -- Jon did an excellent job! He was friendly, knowledgeable and thorough. He not only explained what was wrong but why as well. We received the report the same day and while it was 67 pages it was informative and easy to understand. I will definitely recommend.
Jen B., Waterloo, Iowa -- I was impressed by how thorough and detailed Mr. Bronemann was in inspection of the home and yard. He picked up on so many important details that I would not have known about. He presents the on-site review and report in a clear and easy to understand way, and explains everything completely. I highly recommend Bronemann Home Inspections to anyone for the excellent value and tremendous importance of being fully informed about home buying!
Bobbie and Steve M., Waterloo, Iowa -- We had Jon do a our home inspection for a recent purchase in Waterloo. We could not be happier with his knowledge and the detailed report that was given to us in a prompt and timely manner. I feel has if I am knowledgeable in many areas but Jon found numerous things that I had missed. I would and already have recommended him for home inspections.
Jenessa O., Reinbeck, Iowa -- Jon was extremely professional and efficient with the timeline he was presented. I needed the inspection to be done as soon as possible and Jon made that work with his schedule. He even had the inspection report back to me in the same day. The report itself was packed with information and provided a great basis for discussion with the sellers. I would definitely recommend Jon Bronemann Home Inspections to anyone in the process of buying a home!
Scott S., Cedar Falls, Iowa -- Jon Bronemann Home Inspections, LLC recently inspected a home my son is in the process of buying in Cedar Falls. As a Realtor in Kansas City for the past 33 years, I've gone on a lot of home inspections. Jon's inspection report was thorough and easy to understand. We had a couple of follow up questions, which I emailed. Jon called me back within a 1/2 hour. He was extremely helpful and his follow up with wonderful. Keep up the good work Jon!
Tom Hart: -- Jon Bronemann is one of the best inspectors in the area and as Realtor I have seen many inspectors over the years. His construction background in multiple trades and attention to detail would give anyone valuable insight about a homes current condition and informative advice regarding potential future maintenance. The best thing he does is the exit interview where he takes the time to explain his report and answer questions. He is a class act
Jill S.: -- Jon has helped us with our home, pointing out concerns from things the previous owners did and I was amazed by his knowledge of all things "building". He is honest and does not cut corners. I would highly recommend him.
Brad J.: -- Jon is the "Home Detective" of Home Inspections. He has years of experience in home construction and repair. He knows what to look for to make sure that both parties in a real estate transaction know the condition of the property being inspected. I would recommend Jon for all of your Home Inspection needs.
Steve B. : -- Jon puts his years of contracting experience to work for you. As a Realtor I've been to literally 100's of inspections and Jon is as thorough and knowledgeable as they come.
Scott and Cara L., Cedar Falls, Iowa: -- Thank you
Jon
for your thoroughness and honesty, I had a great time today and learned a lot from you too!
​
Use this handy Inspection Term Glossary Search to help you with inspection terms that may not be familiar to you. Knowledge is power.
---
For your professional home inspection by a certified, experienced, and insured home inspector in Cedar Falls, Waterloo, Cedar Rapids, Waverly, Shell Rock, Janesville, Finchford, New Hartford, Clarksville, Parkersburg, Aplington, Kesley, Stout, Fern, Sinclair, Dike, Wellsburg, Holland, Grundy Center,Reinbeck, Steamboat Rock, Dinsdale, Morrison, Zaneta, Voorhies, Gladbrook, LIncoln, Traer, Buckingham, Dysart, Hudson, La Porte City, Dysart, Elberon, Keystone, Vining, , Garrison, Vinton, Mt Auburn, GIlbertville, Brandon, Shady Grove, Urbana, Rowley, Independence, Jesup, Evansdale, Elk Run Heights, Dunkerton, Center Point, Klinger, Oran, Fairbank, Hazelton, Oelwein, New Hampton, Sumner, Fayette, Readlyn, Denver, Tripoli, Plainfield, Charles City, Buck Creek, Westgate, Frederika, Sumner, Iowa or Black Hawk, Bremer, Butler, Buchanan, Grundy, Tama, Benton counties call Jon Bronemann Home Inspections, LLC at 319-239-5880
Proud to refer this company for all your radon testing and pest inspection needs.