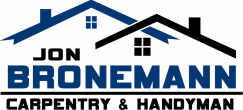 Proudly serving Cedar Falls and Waterloo

"The bitterness of poor workmanship and low grade materials lingers long
after the sweetness of a cheap price is forgotten."
---
Contact me directly at 319-239-5880
email: jon@jbch.us


City of Waterloo Contractor License # 568-15 Residential Builder
State of Iowa Contractor Registration #C101903
Iowa Lead Safe Renovator #0010853-FIRM


About Me:
Jon Bronemann Carpentry and Handyman should be your first call for all of your bathroom and kitchen
remodeling needs.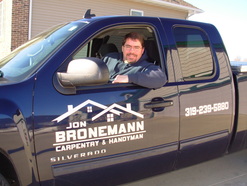 Jon Bronemann - Owner
After years of doing this for other companies I have been afforded the opportunity to do it
on my own and it has been great. I have really enjoyed the projects I have worked on but the
looking in the customers eyes when we finish the job and to hear it met all of their expectations is very rewarding. And then when they share it on social media and I get to hear
those same comments again is even better.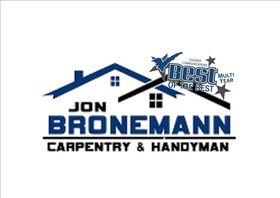 Carpentry, Remodeling and Renovating

Kitchen remodeling and cabinet installation

Bathroom renovation

Basement finishing and renovation
Fireplace mantels and fronts

Closet Makeovers

ONE CALL---- I manage the project from start to finish. This includes design, assist in product selection, all material purchase, hire any subcontractors for the project as required by code (HVAC, plumbing, electrical). All other work is self performed.

Handyman Service

Pre / Post Real Estate Sales Punch List Completion.

Real Estate Agents love me. When that sale or closing date is on the line I can help with those loose ends. I am also available for consultation on property remediation prior to putting the home on the market.

Rental makeovers and new tenant maintenance.

Land Lords depend on me to do the job according to code and within their budget. They can trust that I will help them make cost conscious decisions.
Minor Repairs
Shelving installation
Curtain rod, tie-backs, blinds and shades installed
Large picture and artwork hanging
Flat screen TV mounts installed
Lock sets and door knobs replaced
Light fixture replacement
Ceiling fan replacement
Change those hard to reach light bulbs
CO & Smoke detector installs and battery replacement (I install 10 year battery life batteries so you won't need me back next year.)
Small painting and wall patch projects
Deck, concrete and vinyl siding power washed

….many other services too.